Evaluating the World Food Program in Cambodia
When trekking through some indigenous villages in Myanmar before officially beginning my practicum, I considered a question that I have been asking myself frequently: who should be learning from whom? 
It seems like the essence of big-D "Development" is to help a "less-developed" country and its people become more like a "developed country." In my on-the-ground experience here in Southeast Asia, this means going from the simple, unmechanized agricultural way-of-life of the villagers around Inlet Lake, Myanmar, to waiting for and shoving yourself into a subway train in Bangkok, then sucking in tight to allow the doors to close. In a lot of ways, more-developed simply means more-consuming, and I am still not convinced that everyone on this planet can continue to consume to greater extents, forever climbing upward on Sachs's topless ladder.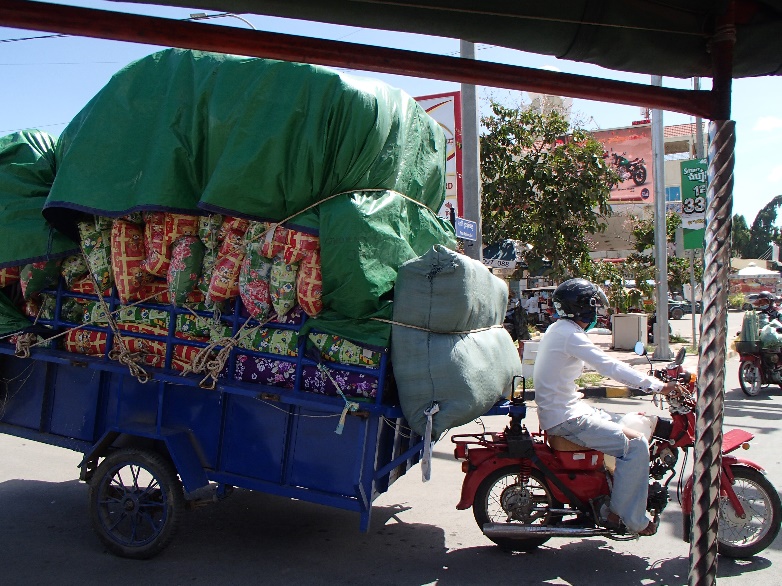 Back to my question of whom needs to learn from whom: check out this picture of how people transport loads of stuff here in Cambodia. In the U.S., most would say you need a huge Ford diesel truck with a Hemi to haul this load. In Cambodia, all you need is a motorbike with a trailer.  Also, it is okay to sweat. You don't need central air everywhere with the temperature set to a perfect 68 degrees. Count yourself lucky if you have a fan.
I just returned to Bangkok from Cambodia yesterday and I'm in the midst of wrapping up some post-field work duties before starting another round of pre-fieldwork planning. For my practicum I have been working with two international consultants from TANGO International and two national consultants to complete a 2011-2016 Country Program Evaluation of World Food Program in Cambodia. Due to steady economic growth, the World Bank changed Cambodia's classification to a lower-middle income country last year, and Official Development Assistance (ODA) has been decreasing. Cambodia is going through a lot of changes, but a common theme in our key informant interviews with government officials and stakeholders, and focus group discussions with beneficiaries, is that there are still many pockets of poverty in many areas of Cambodia, and they still need a lot of aid.
WFP has focused on three main categories in Cambodia the past six years: Education (through school meal programs, and food and cash scholarships), PALS (productive assets and livelihood strategies: like HH and community food-for-work and cash-for-work projects), and nutrition (treating moderate acute malnutrition, and food and nutrition training for HIV/TB patients). WFP is actively phasing out of direct implementation in Cambodia and is seeking to turn this role over to the government by 2021, while still offering technical assistance. One program that I really like that WFP implemented here as a way to ensure government take-over is the Home Grown School Feeding program (HGSF).  Rather than the traditional USDA rice, beans, oil, and canned fish, the HGSF has a supplier who sources the rice, diverse vegetables, and sometimes fish and pork from the local area. The kids like this food a lot better, it is nutritious, and many assert that it increases household livelihoods.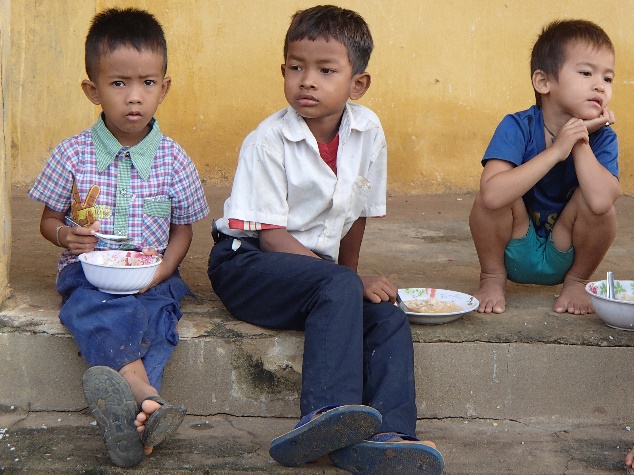 Three young boys eat their breakfast out of bowls at school in Cambodia.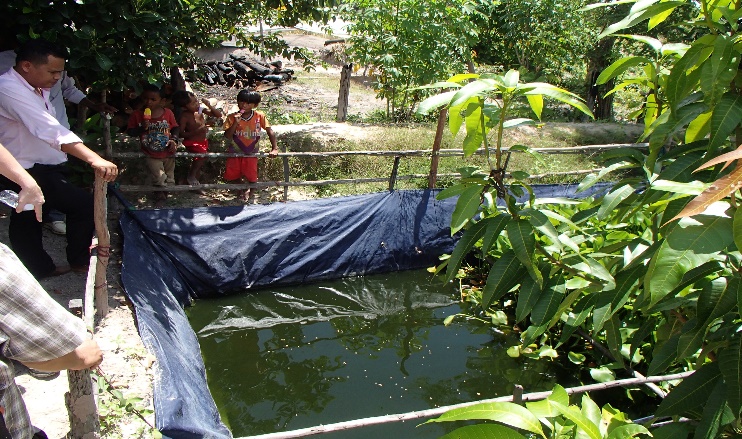 Three boys enjoy brightly-colored popsicles while standing in front of a household food-for-asset fish pond. The motorcycle ice cream store travels many kilometers over awful, bumpy roads to reach its young customers. 
The CPE for WFP is supposed to guide the organization in their next strategic plan in Cambodia. The future does seem to be bright for the country. Maybe on its path to becoming a high-income country, it can teach those from the high-consumption world a few lessons of its own.
Kids with their toothbrushes after doing their morning teeth-brushing at a school in Cambodia.
Amanda Hixon
Master's Development Practice Candidate, 2018
University of Arizona